…when a Virginian angler says "March Brown" this time of year.  Usually this is a reference to the burly mottled mayfly that hatches in fair numbers around April, a bug that gets due attention from trout as the water is warm enough for them to be inspecting the surface for a meal and the Quill Gordons and blue quills are dwindling.
This time it's for the lake-run brown trout that have spawned last fall in Lake Ontario's tributaries and have spent the last several months in those streams feeding on the bounty of eggs, baitfish and nymphs to prepare them for a journey back to the big Lake.  Most of the spawning fish probably ride out a high water event long before the streams ice over in winter, but some of these chaps spend months living a second existence as stream trout through the coldest months of the year, giving the likes of me a chance to get some big browns before fall.
My wonderful wife allowed me a half-day of fishing fun this past weekend while we were visiting my parents in Rochester, up in a land still definitely in the clutches of old man winter.  Sunday afternoon seemed best as the forecast highs were above freezing and the sun would be shining, giving the wind- and cold-wearied angler some minimal respite from the elements.  I met up with a couple of fishin' buddies who were kind enough to drive all the way from Buffalo just for a couple hours of camaraderie before I had to hightail it back to my folks' place.
Between the time I started fishing and my buddies showed up, I fished some lovely water that was colder, clearer and lower than I expected given the rain and runoff they were experiencing just days earlier.  And once I saw the droves of suckers, who perform their reproductive duties in the same streams that the trout use, but in the spring, I figured the browns would be gone and only a few rainbows, also spring-spawners, would be around.  I toughed it out, fishing through the heaving masses of suckers and nymphed up a brace of handsome male browns, fighting better than expected given the water temperature.  They put the 5-weight TFO to work and I was impressed with the performance of a lower-priced Albright reel (a GP series) that turned out to have a drag suitable for bulldogging lake-run browns.
This bastard would not hold still for a decent photo, and since he was motivated to get back to his hidey-hole, I snapped a crappy shot and let him be on his way.
After these fish, it was sucker time, so we hoofed it back to the cars and called it a day.  So anticipating baby taking up most of my time this summer, it'll probably be October or November before I get a crack at the Great Lakes fish again.
One parting photo for the lake-runs - until we meet again 8 months from now.  Know you will haunt my dreams.
Post with 2 notes
…is allegedly the beginning of something else.  I hate trite sayings but this shoe fits well these days.
After a long and excuseless drought, the Thinking Man's Idiot Fly Angler has found some inspiration to blog again.  Forgive my absence - even though maybe only two or three people have noticed - but all of a sudden things changed.  I scored a new job way back in October (which, ironically, I'll be vacating within a week), took on some serious home projects, mourned the loss of a computer and have been making room for a kid who is due sometime in late May.
But it's been a good summer/fall/winter rife with fishing affairs.  Most recently I've been hitting the SNP with trusty fishin buddy Dan (of The Grey Sulphur) and new guy Buffalo Andrew.  The three of us assaulted a pair of trailless backcountry streams loaded with brookies and eventually I'll start posting photos and stories from my own archives.  It's really going to suck playing catch up, but if someone out there in 'netland gets a kick out of it all, then I'm happy to oblige.
Yesterday I had some solo time up in the hills and decided it was time to fish a smaller east slope stream that parallels a popular hiking trail.  As expected, two things happened: I saw more people than I'd like to see when I'm fishing and I caught a mess of fish.  Even caught the first 10" brookie of 2011, so a grand success.  And yes, I caught him on a dry.
Great scenery and plenty of water up there…
Brook trout willing to eat dry flies in cold water on a 50-degree day: most excellent.
Did I mention just how hungry these little bastards are after a cold winter?  Two dozen or more of them - out of ONE HOLE - ate a brown para mayfly.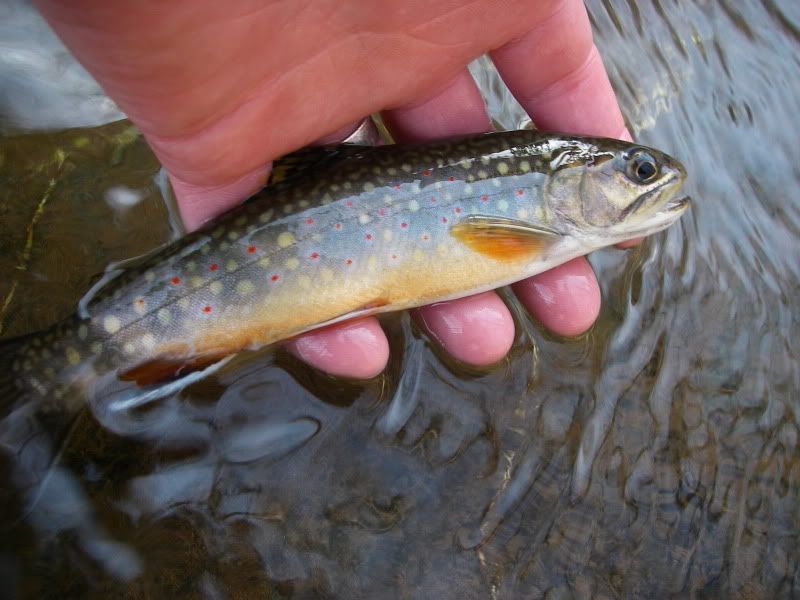 A decent fish - before and after the release
And the big fish that chomped an olive x-caddis.  He was pretty pissed about the whole thing and would only cooperate for one lousy out-of-focus underwater parting shot.
It was a fine half-day outing, even though I had to leave just as the air and water temps were peaking.  With all the water still up at the top of the mountain, and no real leaves on the trees yet, we should be in perfect shape for the spring mayfly gig.  It's gonna be tough waiting.
Post with 1 note
Or is it eff me?  I'm all full on screw-ups at the moment so I'll let you take this one, Pentax.  Of course I hit my favorite brookie stream in all the land today and the BATTERY IN THE CAMERA WAS DEAD.  Sure it makes sense to check BEFORE going but the obvious frequently eludes me.  I have friends and a wife who can attest to this.
Never fear, Samsung to the rescue.  A feeble rescue, but the cell phone camera was up to the task for 2 of the 3 big brookies that were in the mood today.  Between fish 2 and 3 I left the phone on, so it drained itself dry searching for a signal while I was soaking my feet in the world's greatest plunge pool.  Otherwise, the fishing was good.  Mid through late afternoon brought a bounty of caddis, BWOs and a solid march brown spinner fall that was so good I nearly left the stream too late as the sun was setting.
Three brookies over 9" from one pool is a rare occasion and worth celebrating.  Here's to you…
And you…
And a dead camera and phone.  Juuuust great.  I knew the big ones would come out to play since the camera was toast, so no complaints.  But maybe next time I'll have the foresight to be - errr - ah - intelligent about my gear.
Post with 1 note
There comes a point every winter now when my daily routine of driving over the James River becomes an exercise in patience.  This is not my lot in life, so a bubble of anticipation - frustration, really - begins to build around January.  I know that the procreative urge that brings in shad by the droves will be upon us sometime soon, never certain of exactly when because it's entirely weather-dependent.  It's no surprise that this past winter has been exceedingly unpleasant, making the arrival of our oily anadromous friends all the more poignant.
A couple weeks ago there was a unique window of angling opportunity locally.  The river was in prime shape, dropping and warming.  It had an appealing greenish brownness that heralded the onslaught of shad, which kindled in me a desire to tie shad flies for the upcoming run.  To my surprise I actually made it to the river inside the small window of angling opportunity and caught a shad or three before a slug of cold, dirty water came down from west of the mountains and blew it out for a solid week.
This is the ebb and flow of fishing a big river with a huge catchment: rain 4 hours away can wreck the river locally within a few days.  But the water came back down.  And with a week of 80-90 degree weather, it warmed up, too.  So did the fishin.  I can say with certainty that the hickory shad are here in great numbers, with the fishing improving daily, and my spey casting skills not lagging too far behind.  Though I was taught a good lesson today about skagit casting: keeping the anchor far enough away from me to avoid burying a hook in my limbs.  I'll say no more.
Some photos of the spots, the fish, Dan Dan the shad wreckin man and the holes that a size 4 hook leaves in a dude's arm.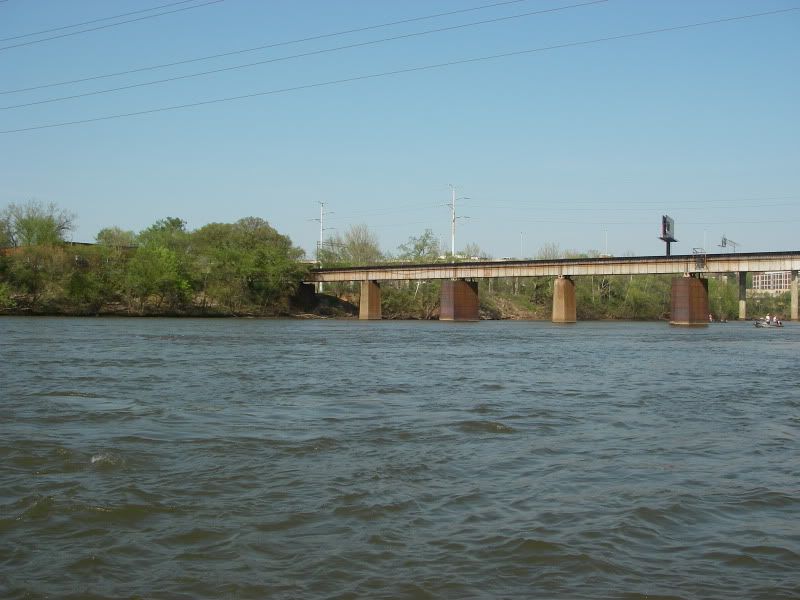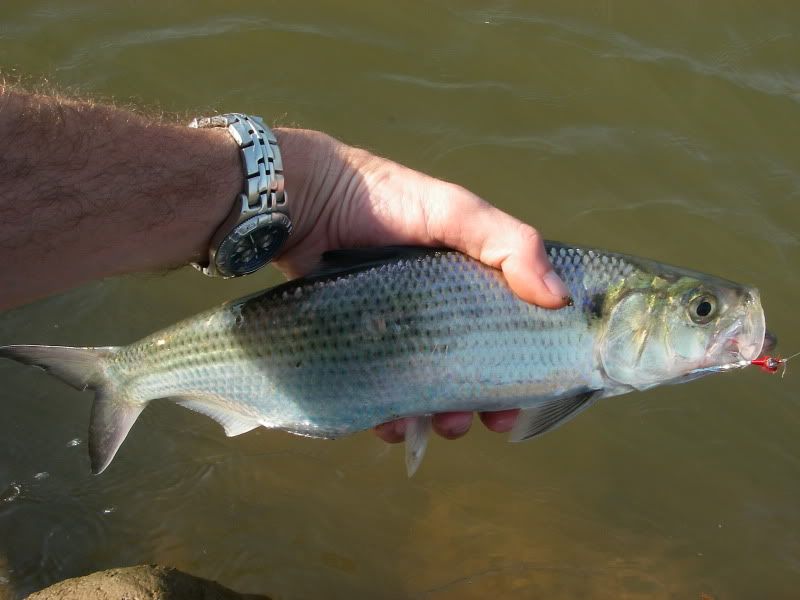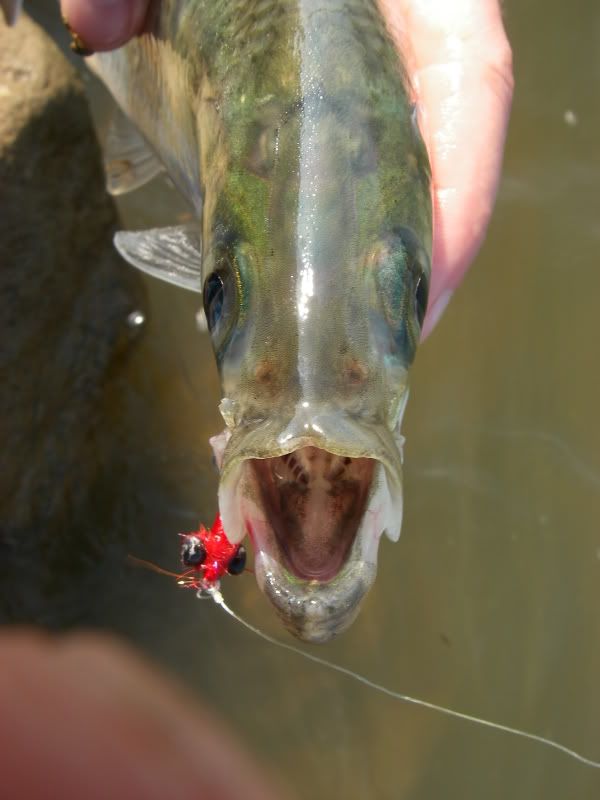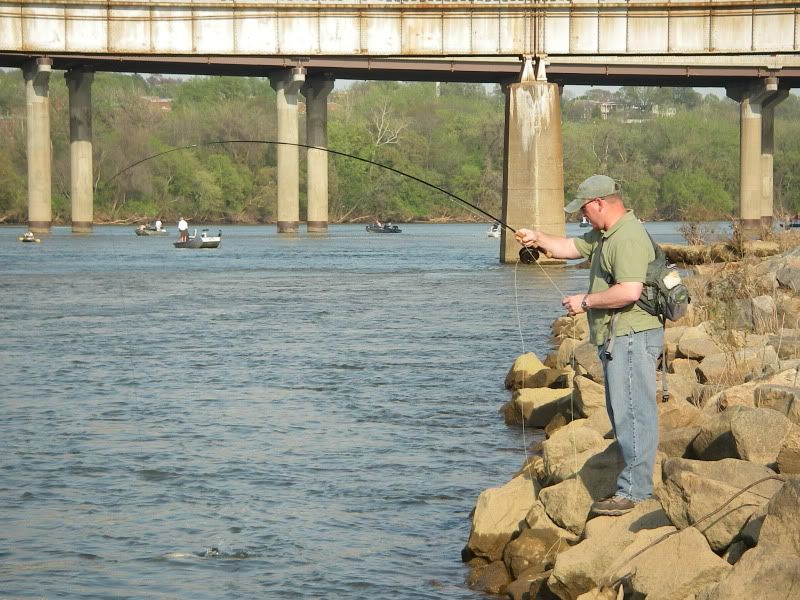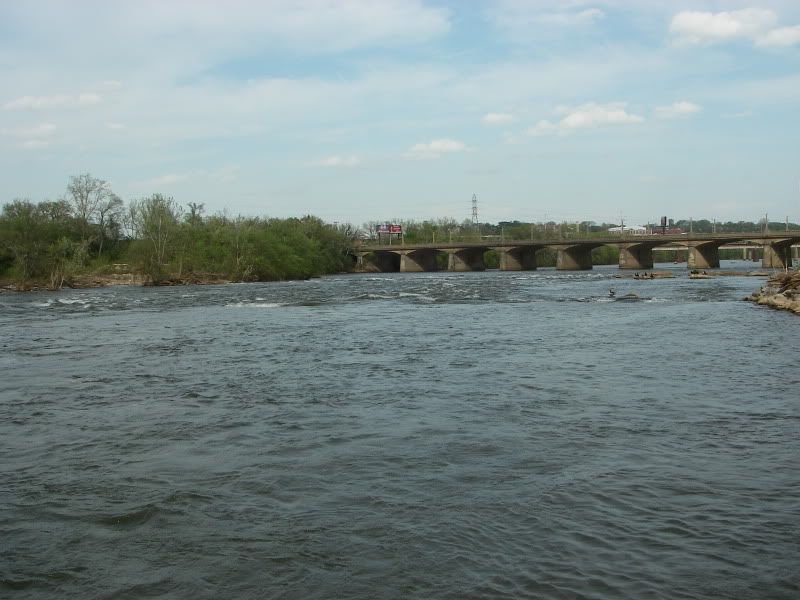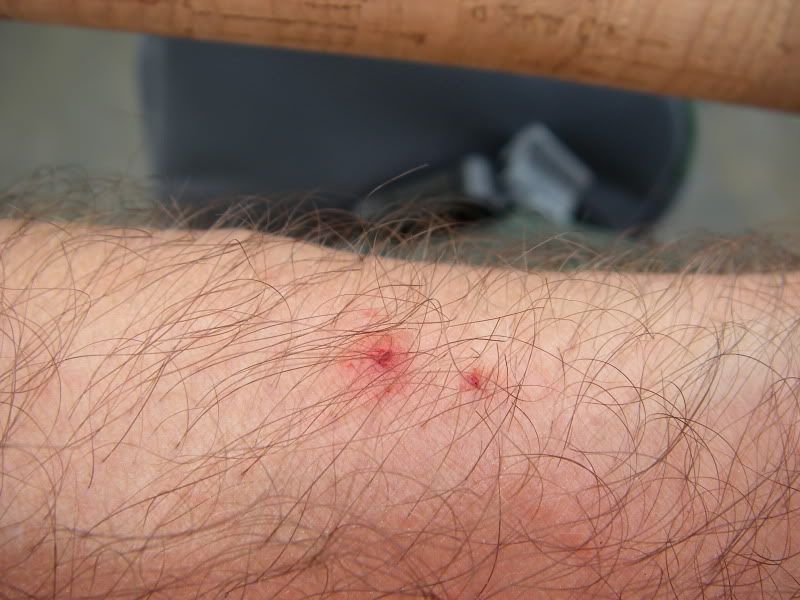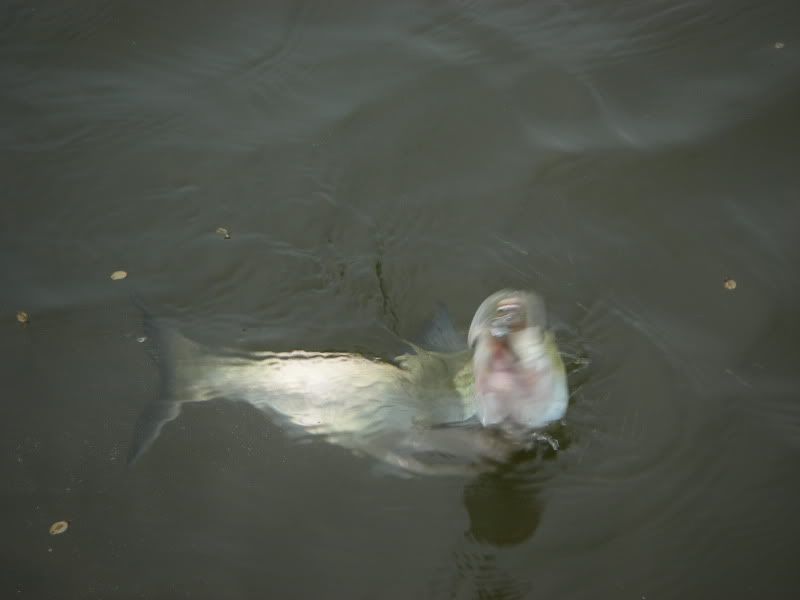 This past Saturday was spent ushering in 2012…you know, with the Apocalypse and all.  Warm days, several inches of rain and feet of melting snow kinda happened all at once and all that water came down the hill with a force that I can only liken to the determination of my wife to head to the mall when we get a 25% discount coupon for the Coach store.  Every last trickle was a chocolatey torrent cutting scars into the hills and valleys.  Even the limestoners were furious…so Dan and I ended up chowing down in Madison, VA after 6 hours of driving around trying to find something fishable.  Skyline Drive was so badly flooded from rain and snowmelt that the NPS closed it down so there was no chance of starting at the very top of the hill.  Bummer.
Figuring that today, 3 days later, the Park streams would be high - but at least clear - I stuffed the tea stick and other necessary accoutrements into the trunk of the Sassy Civic hoping to reach a favorite east-sloper by mid-afternoon.  I needed that fishin fix BAD, worsened by Saturday's total wash.  Definitely a roll of the dice after seeing the USGS gauges downstream of my destination…
Arriving at the parking area, it was obvious that I'd have to hike pretty far up the slope as the stream was running OVER the road connecting the 2 parking lots. 
Normally this thing moves quietly through the small culvert beneath the road, or during the summer entirely underground.  So…I suited up and headed in.  The trail was rougher than usual having been a temporary streambed after the weekend's deluge.  At the first stream ford, the sheer volume of water coming down the hollow was pretty incredible, 2 vertical feet higher than I'm used to seeing at this crossing.  All along the trail, freshets and weeps were running at full blast in their efforts to join the mainstem.
Every so often these runoff chutes dumped their contents onto the trail creating a miniature series of falls.
After a half-hour of slogging my sorry butt uphill, I found the spot I came to fish and got right to it.  Jesus that water was cold - 38 degrees - and it was hauling along.  Despite a number of olives and some quill gordons, no one wanted anything on top.  So out came the nymphs and shot.  First cast produced a healthy fella that put a good bend in the bamboo, augmented by the fast high water.
A couple smaller fish later, I switched it up and tossed an OTL Woody Bugger (thanks Jeff) and pounded up this scrappy bastard: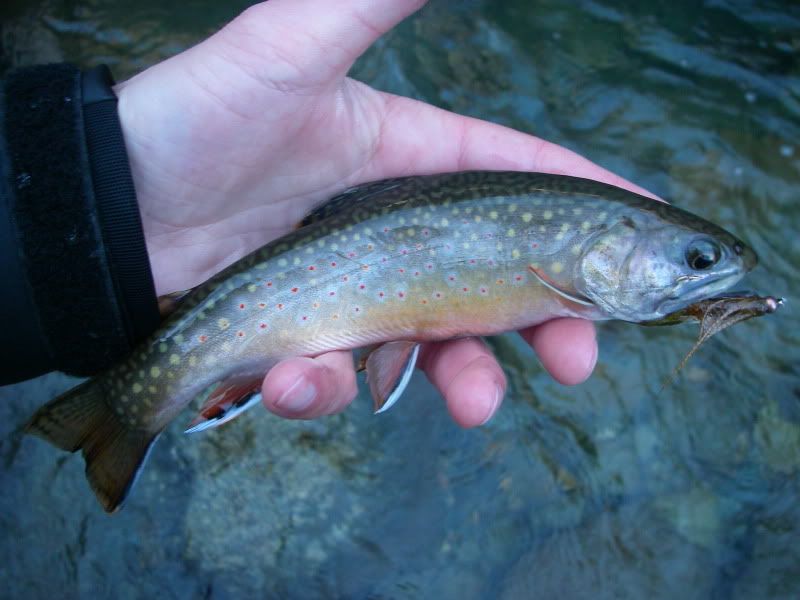 Finished off the day with this guy before heading back down to the car…
It felt like the weather should be turning a corner any week now, once the water calms down.  Air temps were in the low 50s and the bugs were starting to show.  'Til next time, old friend.
Holy mother of God.  Drive-thru Espresso (and the chicks who work 'em), Metolius River and real freaking mountains.  And October caddis - in March.  These are a few of my favorite things and they all happen to call central Orygun "home".
In summary, BULL TROUT:
The SISTERS:
and a MULEY:
Eventually I'll get some of those autumn sedges in here but for now, I'd better keep it short.  Great trip, but sadly we had to return.  Maybe a blessing after the goat-roping endured when staying with in-laws.  Never a pretty scene.
Post with 1 note
Reliving the insanity - summer 2009.  Spring creeks, huge trout, terrestrials…oh my.  A special thanks to my man Dan of Grey Sulphur infamy for never talking me out of the shortest of trips to the Valley.  This sort of amusement borders on illegal.
Without further ado a photo essay: how I blew my summer, 2009.  May the shad and brookies keep me sufficiently occupied until July 2010.
This coming week my lovely wife and I will be headed to Orygun for a few days with her parents.  You read my mind: there's always a catch.  Yep, Orygun.  Yep, in-laws.  Grand.
So at this point I'm left to tie big bunny leeches and tiny copper johns for Metolius bulls, as I'll be entirely confined to central Oregon.  "Yeah, not so awful" you might think, but at a time when the coastal rivers and Columbia tribs like the Sandy and Clack are filling up with big winter chrome, it makes me wonder if I could sneak away for a day unnoticed.  Not likely but let me dream.
Link with 1 note
A look into the twisted world of a good fishin buddy.  Don't be surprised to find duplicate photos and trip reports on this entertaining blog.
I've been chomping at the bit to fish the Shenandoah NP and since it's been blanketed in snow for the last 3 months fishin hasn't been so easy to come by.  Skyline Drive hasn't been open for a month.  The cold air hasn't done much to get the snow off everything and ice has become a formidable adversary.
I used to run back in the day.  Much of that training has leaked out over the last 15 years.  To my dismay this was recently proven on a Sunday trek up into the snowy hills, one of those occasions when the thrill of catching a bunch of fish blinds the idiot angler to the eventual long, slow trudge through foot-deep wet snow for 2 miles.  Devastating.  On the bright side - literally - this is the greeting we received upon fording the river at the locked gate…
The NPS has an ongoing commitment to removal of invasives from Park streams.  Interloping browns, introduced into this stream during a single stocking in the 1960's, have established themselves quite well but avoid the gavel of the NPS due to the fact that this stream borders the SNP and isn't contained with its boundary.  Score one for the maligned brown trout.  Though the brown trout presence is extensively documented, there are still plenty of native char throughout the upper reaches of this drainage, and hell, the brownies provide a unique angling opportunity for the Park stream angler.  I've personally caught two browns over 14" up on this crick and have heard of many larger than those.  Throws a nice monkeywrench into the usual mix of small brookies, and this trip was no exception.  The first big, deep slot gave up this chunky trutta:
Lazy char and a few browns came out from the shadows to chow down on nymphs of all sorts.  Surprise of all surprises - we saw at least a dozen size 10-12 quill gordons on the snow, along with a smattering of olives and winter stones.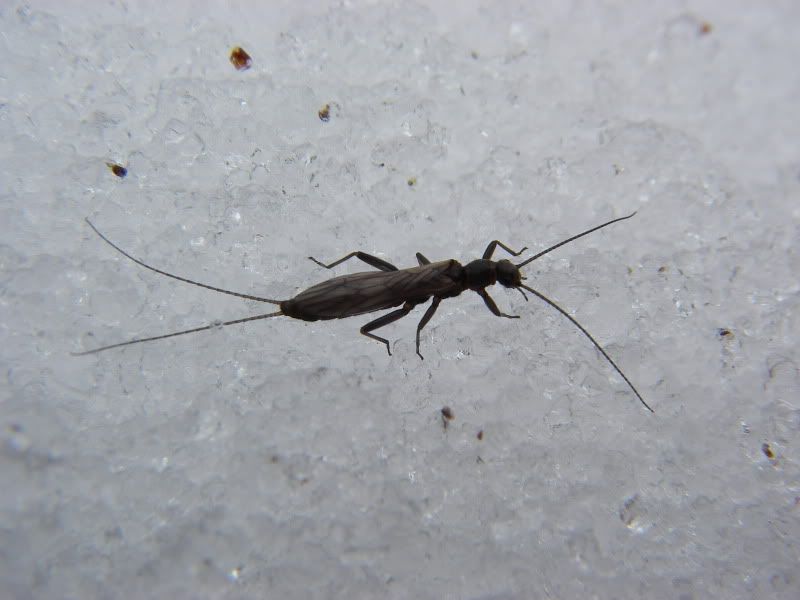 Highlights of the day were the outstanding weather - sunny, high 40s - and these gorgeous specimens: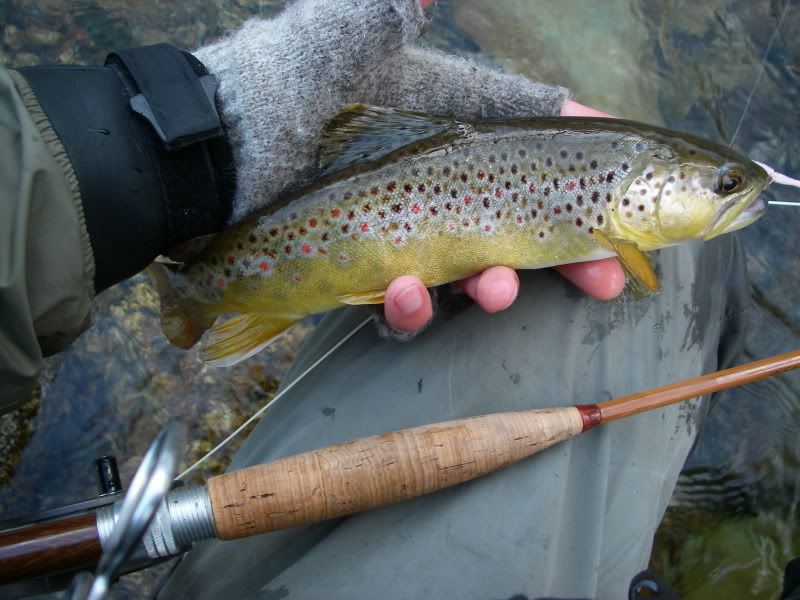 Those bugs better herald the first rays of spring - if not, I want my money back, Commonwealth of Virginia.  The walk back down to the truck was worth a couple days of backaches but what the hell, the omelette is always worth the broken eggs.